Being a homeowner, do you find the rough stains on your concrete driveways disturbing? Concrete stains, such as oil stains, are more than an eyesore; they also reduce the strength of the surface of your driveway.
Stop overlooking those stains and find out how to pressure wash a driveway to keep it in a better shape. Also, we all know curb appeal can be improved by a clean driveway.
Your tires accumulate oil, grease, dirt, and all forms of grime (including road mill), home to your driveway, so you need to clean it, but you no longer want to spend your entire Saturday working on your driveway using a hose, right?
Well, we have you covered. The best and fastest way to clean any driveway is by using a pressure washer.
These cleaning machine will spray a huge volume of water at maximum pressure (sometimes at a high temperature) to speed up cleaning.
To pressure wash driveways, we recommend getting a washer with pressures of a minimum of 3000 PSI (Pounds per Square Inch).
Immediately you are with your pressure washer and a driveway to clean is on sight, just follow the steps below to give your driveway a new look.
Firstly, let us discuss what a pressure washer is all about and how to power it.
What are Pressure Washers and How to Power it?
Pressure washers are powered through gas or electric engines but mostly a gas engine. A pressure washer runs pumps that pressurize the water right from your garden hose, and then apply pressure to it through a spray nozzle. Many new pressure washers feature a chemical injector that can also mix detergent with the water to have a more effective cleaning process.
There are three various types of pressure washer, namely;
cold water,
hot water, and
steam pressure
But a cold water pressure washer is the most commonly used type and the one you will possibly be using.
How to Pressure Wash your Driveway
People often fail to realize that you can truly damage your concrete driveway, patio, or other areas covered in concrete through pressure washing. A lot of people believe that concrete is solid and can be invincible. However, the use of a pressure washer with the wrong tip or applying too much pressure, or combining the two can lift concrete.
Below are a few tips to enable you to pressure wash your driveway or any other concrete surface safely. These work for almost any surface you decide to pressure wash.      
Materials Needed
pressure washer
broom
stiff brush
pressure-washer detergent
bottle of spray degreaser
painter's tape
extender pole
roller cover
roller handle
garden hose
paint tray
safety manual
safety gloves
plastic sheeting
waterproof sealer
What Kind of Pressure Washer is Perfect for Cleaning Concrete?
There are various options of pressure washer to consider, such as:
Small, light-duty units you fix to a garden hose
Big, commercial-level machines
Different levels of pressure (PSI)
Gas and electronic models
Wheel-mounted, walk up surface cleaners
To make sure you effectively pressure washing your driveway, consider the simple steps below:
Before you begin to power wash a concrete driveway, sweep of any debris and loose dirt using a broom. Immediately the driveway is free of debris, try to protect the walls, doors, and windows of your home that are closer to the driveway.
Cover them using plastic sheets or any kind of tarp and use painter's tape to secure them. This keeps the painted surface protected from peeling away if water gets on it accidentally. It also provides some coverage against flying debris that was missed when you did the first cleanup.
Every pressure washer is not the same, so before you plug your own, be sure to read the instruction and safety manual carefully. These instructions give you ever steps you need to follow for proper and safe use of your pressure washer. You will also need to figure out the maximum point of your driveway together with the direction the water flows naturally to improve cleaning your driveway.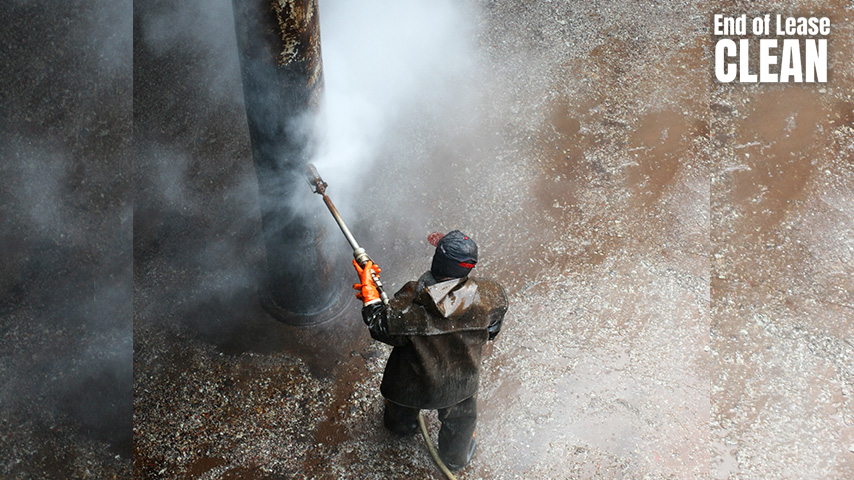 Degrease the Surface
When you are cleaning off driveways, make use of a commercial or homemade degreaser to get the best outcomes. There are pressure washers that offer an accessorial tool for applying the degreaser; else, make use of a stiff-bristled brush or push broom to scrub the degreaser to enter the stain.
Recipe for homemade concrete degreaser 
Vinegar
Borax
Baking soda
Hot water
Directly sprinkle the stain using baking soda and leave it to sit for around 5 minutes. Pour white vinegar gently and directly onto the baking soda and leave the ingredients to fizz for many minutes.
Next is to apply Borax to the already wet surface. Scrub the stain with a stiff-bristle brush and use clean water to rinse the degreaser away. If you still notice a stain, retreat using the homemade stain remover.
To get rid of rust stains or to get moss away from a driveway, simply apply undiluted juice to the rusty area or moss directly. Leave the lemon juice to stay for fifteen minutes, and then use a stiff brush to scrub.
If you are unable to get lemon juice, make use of white vinegar instead. Use clean, cold water to rinse away the stain. To get rid of mold and mildew stains from your driveway, mix a cleaner that contains baking soda and bleach. The solution, when properly mixed, will look soapy and thick. Scrub the stains by using a wire brush that is dipped in the cleaning solution or directly pours the solution onto the stain and then scrubs.
Prepare Pressure Washer
It is always a nice idea to go through the manual before you begin this process, and we would recommend you do this before you even start the first step. The first step is to connect the spray wand to the hose of the washer. After doing that, attach the garden hose to the machine to get an uninterrupted water supply.
The final thing is the nozzle of the pressure washer; there are many to select from based on the job at hand. For soap application to your driveway, choose the low-pressure nozzle or one that is labeled to apply detergent. Immediately you are prepared to rinse, change to the high-pressure nozzle for concrete, but it needs to be used carefully as it damages brick surfaces.
Wash your Driveway
You first need to apply detergent to your driveway. For this, putting on safety gloves and old clothing is likely a good idea in case you get splashed onto you. Have the washer between 10 to 15 inches from the concrete and endeavor to keep a consistent distance. Go in a symmetrical pattern and leave two inches between each stroke.
Allow the detergent for about five minutes. You can now start to pressure wash; maintaining the same pattern as above when working and make use of  pressure nozzle to wash your driveway. If you meet a stubborn stain, close the distance of the pressure washer for a more thorough clean. Ensure you deeply rinse off the entire detergent.
You should leave the concrete to completely dry off before you let any vehicles enter the driveway. This may take a whole day but will be a bit faster in warmer weather. If you want a long-lasting effect from your power washing, you need to apply a sealant immediately after the concrete has fully dried. Apply this using a long-handled roller.  
Seal Concrete
Get a paint pan and pour waterproof sealer into it, fix roller covers onto roller handle, attach extender pole. Then, beginning in the middle of the spot, roll waterproof sealer outside from the center to all corners of concrete. Leave for 24 hours before you park on the surface.
Additional Measures to take  
Environmental pollution: Be careful of the path that all the water you are using to pressure wash your driveway is flowing. Possibly you don't reside in a place with a sani-sewer. The water that gets into the storm drain may flow to your local stream. You wouldn't want to pollute that stream with the oil and chemicals you are washing off your driveway, right? You could channel all water to your lawn to get it absorbed there. You could also block the storm drain and allow the water to evaporate then sweep or vacuum up the solids.
Safety: As usual, there are risks associated with high-pressure water. The use of surface cleaner lowers the risk since it has the jet stream inside the unit. Make sure you put on eye protection and be careful of your eyes. Avoid backing up into the road while washing the edge of your driveway as vehicles might be approaching the road.
User manual: Always consult your pressure washer manual to find out the proper way to use it. Also, especially to find out the safest chemicals to use in the detergent tank.
Do not operate the pressure washer without water. This will lead to untimely failure of the pump seals.
Avoid running power washer in bypass or over a few minutes (working unit and undepressed trigger). The water flows around in a closed loop and heats up fast. Many pumps contain a thermal-relief valve, however, if the valve malfunctions, the pump can get damaged.
Ensure the water source gives the quantity of water that the pump needs. Otherwise, the pump will suck in air, and this can damage it. The first thing you will notice when there is air in the pump is that there won't be enough pressure and you will hear a hammering noise.  
Conclusion
Pressure washing is a quick, effective means to clean your home or driveway. Just stick to the tips in this write-up, and you will love the result. If you want to avoid passing through the stress of renting or purchasing a pressure washer and spending the time pressure washing your driveway and sidewalk, contact us at End of Lease Clean pressure cleaning now to see how we can help.