The average cost of end of lease cleaning services is at $33/hr. If thorough cleaning is not required by the property, end of lease cleaners can charge between $25/hr and $30/hr.
However, if the property has difficult areas to be cleaned like range hoods, surface mold, and ovens, professional cleaners may charge up to $35/hr.
There are varieties of tasks that come with moving out from a property, such as purchasing packing supplies, browsing through the internet to discover the perfect end of lease cleaner for your need, and lot more.
But what is the actual cost of an end of lease cleaning?
A lot of people are of the mind that this type of service is very costly, and their best option is to take care of the task themselves.
In an actual sense, a move out cleaning doesn't need to drain your pocket since various factors influence the cost of the service, and you can control some of them. This article will discuss all these factors one by one. So if you are:
Looking to save a few amounts of money for your move;
Or someone that loves to outsource or designate cleaning;
Or looking for a way to recover your deposit.
This post is for you!
What is the Cost of the End Lease Cleaning in Australia?
End of lease cleaning on an average, costs about $240 to $270 for a standard three-bedroom property, but the condition of the space can affect the price.
If the property doesn't require thorough cleaning, the price can drastically reduce. Knowing this, if the condition of the property isn't very good or has many difficult spots and items to clean, such as stains on the wall or oven, the service cost will be higher at around $410. Let's take a look at factors that may influence the cost of end of lease cleaning.
Factors affecting the End of Lease Price
A lot of factors influence the cost of an end of lease cleaning project and some of them are unknown to many people. Below are the major ones:
The size of the property: The size of the property to be cleaned at the end of the lease is one of the major factors that determine the cost of your end of lease cleaning. Whether a studio or a one-bedroom apartment, the time it takes to clean it will be lesser than cleaning a four-bedroom house.
The condition of the living space: Another major element that influences the cost of service is the state of the property. If you've not been performing regular maintenance for the clean condition of your house or apartment, you can expect cleaners to add an hour or two to the cleaning process.
Extra services: Based on the company you plan to hire for your cleaning, extra cleaning tasks, such as lawn mowing, carpet, or window cleaning can significantly increase the overall price of your service. Fortunately, many companies provide special deals or discounts if you book extra jobs to be performed together with your end of lease cleaning.
Equipment: Prepare to spend extra if there is a need for special cleaning tools or materials for your end of lease cleaning job. This is usually the case in complex cleaning jobs like a certain area of the property experiencing mold growth.
Labor costs: Some jobs require more than two workers. In this situation, you need to get ready for expensive costs as you would be required to pay for more workers.
Location: Bigger city attracts higher service prices, and this is true for any kind of property cleaning or maintenance services. If you are looking for an end of lease cleaning service to work on a studio flat with a balcony located in an expensive Sydney neighborhood, for instance, and the state of the property is not that good, your price is going around $500.
On the other hand, similar property in better condition and located in an affordable neighborhood of the city can be about $350. You now know that properties located in less-popular areas of town will be less expensive to clean.
What is the cost of an end of tenancy clean?      
| | |
| --- | --- |
| Size | Cost |
| Studio | From $415.00 and include carpet steam cleaning |
| One-Bedroom Apartment | From $470.00 and include carpet steam cleaning |
| Two-Bedroom Apartment | From $560.00 and include carpet steam cleaning |
| Three Bedroom House | From $650.00 and include carpet steam cleaning |
DIY vs. Professional Cleaning
Here are the questions of DIY or go with a professional cleaning service. As you are already aware, the end of tenancy cleaning is not a simple task. Let us discuss the pros and cons of the two options:
DIY – When you perform cleaning by yourself 
You may be able to handle your cleaning if you live in a studio. However, if you live in a rented 2 or 3 bedrooms apartment, getting this situation done perfectly by yourself is not certain.
You will first be required to take a few days off work. You will then have to purchase special cleaning supplies for the walls, floor, bathroom, kitchen, dust, appliances, windows, grease, and so on.
You will then spend hours trying to clear away dust and drips from the floor, using a toothbrush to rub even the bathroom tiles, and others mostly you will not be sure if you've satisfied the landlord's requirement.
On the other hand, doing it yourself can save you money, but consider all the time it will take and the stress you will go through. And in the end, you are not sure that you will recover your deposit from the landlord, so is it worth it?
Professional Cleaning
Cleaning companies use special cleaning equipment, machines, preps, and qualified employees, who have been specially trained at the end of lease cleaning. They understand this task and have much experience.
For instance, for your dirty carpets, you can only restore their condition by hiring professional carpet cleaning services. The majority of the professional cleaning services give 100% assurance that you will recover your deposit after they performed their job.
Also, they have the homeowner's checklist. So certainly, the money you will invest on your end of lease cleaning will not be as much as losing the whole of your deposit.
Why should you get Professionals for a Deep End of Lease Cleaning?
Based on some surveys, poor cleaning or messy state of the property is the major for deposit claims in Brisbane, Queensland. Failure to perform end of tenancy cleaning before you finally move out implies that the property manager will have to hire a cleaning company to give the entire property a good and thoroughly clean. This could lead to a reduction in your security deposits. Since the bill will not be paid by your landlord, he won't have any worries using an expensive service.
He will have the most expensive cleaning company in the city clean the property, and the price will be deducted from your deposit money. This could cause issues between you and the homeowner.
Deposit disputes can be avoided by hiring professional help from highly trained, certified, and nearest end of lease cleaners.
Designate some time and look for the best company which can offer you the top quality service at the fairest price. All your cleaning needs will be perfectly settled by an experienced post-lease cleaning company.
They give the property a good clean from top to down, as stated by the REIQ-approved checklist.
Starting from living areas and bedrooms to bathroom and kitchen, then patio area to the washing room, you will receive an adequate cleaning because they understand exactly how to impress the homeowner during the final property inspection.
To get a suitable option, you can list the five best cleaning companies and make a comparison of their quotes. Remember to read customer reviews before you make your final decision. If you are worried about their pricing, check the important factors included in this particular cleaning service.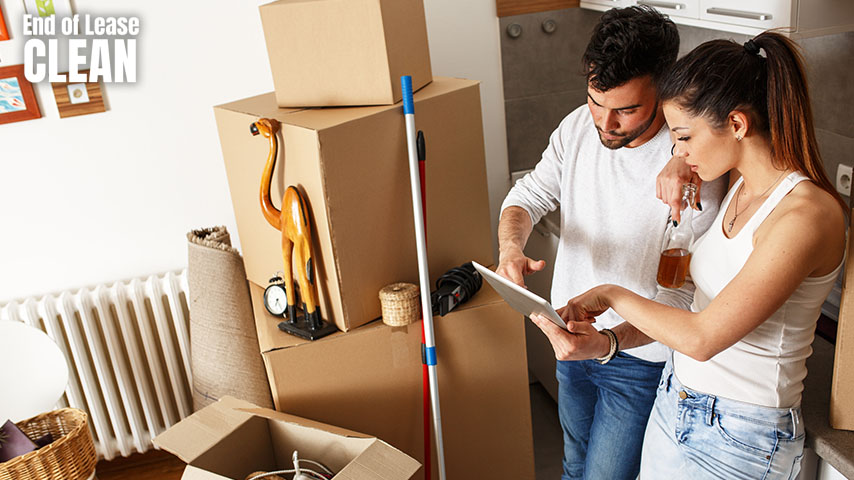 Choosing the Perfect End of Lease Cleaners
Ask for a quote: Be savvy while shopping and request an end-of-tenancy cleaning quote from various companies. Doing this will enable you to make a price comparison before you go into any long-term agreement. This company offers quick quotes just by filling out a form with the details of your property.
Read reviews: This is a digital age, and researching a company's reputation is now easier than ever. Whether on Google or Facebook, there are many resources to understand more about a company's operations, how they take care of their customers, and also if they will perform a professional job.
Ask for a cleaning checklist: If you contact a company, and they fail to provide a post lease cleaning checklist, leave them. Your cleaning company should be able to give you a list of each cleaning they will perform in the bathroom, kitchen, bedroom, and so on.
Stay away from hourly rate post lease cleaning: A popular pricing method for end of tenancy cleaners is to charge by the hour. Try to stay away from this, as estimating the time it will take to complete a cleaning task is not possible. Since there is a difference in each property, it will surprise you that the cleaners ask for more money if they couldn't complete the task in the allotted timeline.
Look for a deposit back guarantee: Finally, ask the cleaners if they guarantee their cleaning work. Some companies offer a three days bond back guarantee. If a real estate notifies us within that period, we will go back to the property to gladly work on the complaints.
The Cleaning Company that will recover your Deposit
Moving out from home can be very challenging as there are numerous things to handle. The task list is limitless, from packing to shopping for the perfect moving team and purchasing new furniture for your new home.
I would like to inform you that hiring the cheapest cleaning service for your end of lease cleaning can cost you a fortune.
You can get solutions to all the tasks described above at End of Lease Clean. With a 72-hours re-clean guarantee, generally, if you or your homeowner discovered that some areas require more work, we will return to the area and clean them for free.
Our end of lease cleaning service is not charged by the hour, which implies that the cleaning team stays as long as needed to complete the job.
Also, you can prepare professionals to come with the necessary equipment for the job with top-quality cleaning machines as well as environmentally friendly detergents. So, stop stalling, get your bond back now with help from End of Lease Clean. Contact us today!