Office end of lease cleaning isn't easy as it involves strenuous effort, time and preparation for a seamless move-out experience. From decluttering unwanted office utilities to packing valuable documents, furniture and electrical items, office relocation can give you nightmares if you don't plan a cleaning schedule at least a month before your final relocation date.
Amidst the hectic chores and fuss of dragging and moving furniture, office carpet faces the most abuse and becomes filthy quickly. A well-decorated carpet highlights the beauty of a workplace; a discoloured carpet demeans the visual appeal and turns down clients. Furthermore, a stained carpet is something landlords won't consider during lease inspection as it can turn down the next tenant and prevent them from getting higher rents. Finally, leaving dirty carpets untreated during move-out can compromise a significant portion of your deposit money.
If you are approaching your relocation date and willing for a full refund, here are the impeccable perks of getting your office carpet treated during end of lease cleaning in Melbourne.
Unhampered Productivity
Besides getting good returns, spotless carpet during End of Lease Cleaning creates a positive work environment and boosts productivity. Nothing looks better than a clean workplace. You can ensure optimum productivity during the move-out chores by revamping your carpet. Office exit cleaners know the customised requirements of landlords and clean carpets using organic detergents that help clients qualify end of lease inspection successfully and get a full refund with the least fuss.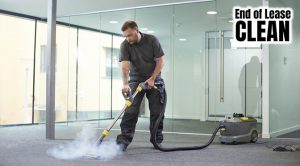 Increased Longevity
Carpets are a hefty investment, and landlords would expect their furnishings to be in the same condition as they were renting out. What if you could give a fresh makeover to the carpet during the End of Lease Cleaning? The intricate carpet weavings trap millions of dust mites, pollens, and allergens while relocating furniture and leaving them untreated would shorten the carpet's lifespan. Hiring commercial end of lease cleaning in Melbournefor carpet restoration can brighten the fibres and leave behind long-lasting freshness, which property owners would love.
Prevention of Cross-Contamination
High foot traffic leads to a potential breeding ground for germs, fungus and bacteria, which get trapped inside the fabrics and contaminate the workplace. However, you wouldn't compromise on the health aspects of employees. Thus, opting for Commercial End of Lease Cleaning can be wise to keep workplace hygiene in check during relocation. For example, filthy carpets are prime culprits for triggering allergies, skin infections and respiratory ailments. By hiring our office end of lease cleaning services, you can minimise chances of cross-contamination and move out with a smiling face.
Full Refund & Impeccable Workplace for the New Tenant
The last thing you would expect during office move-out is paying a lump sum penalty for an unkempt space. By taking care of small things such as carpet cleaning, you can avoid such disasters and make relocation pleasing and stress-free. Vetted bond cleaners will restore the visual appearance with meticulous office end of lease cleaningand help you secure a 100% bond refund. The way you present the workplace during lease inspection would reflect your personality and help landlords impress new tenants. Commercial cleaning leaves behind long-lasting freshness and amplifies the overall aesthetics of a workplace. So rely upon trusted professionals who can assure you of a 100% bond refund with the high-quality commercial end of lease cleaningand make relocation stress-free.
At End of Lease Clean, we focus on quality cleaning and aim to provide sparkling results for our valued clients. Our team strives to provide nothing but the best using modern tools and organic detergents and make End of Lease Cleaning 100% successful. So, if you are heading towards your relocation date, let us handle the complex cleaning chores and relocate peacefully!